Kranich's Jewelry Store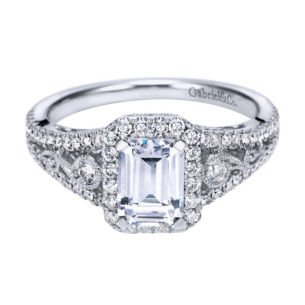 I'm just going to lay it out for you folks - I am a magpie. I am attracted to anything shiny.
Life should always be full of shiny things.
And as it is still February, the shiny celebration month of lurve, it is a great time to look at jewelry.
Oh who am I kidding,
every month
is a good month to look at jewelry. And I've been looking at Kranich's Jewelers.
They have
beautiful engagement
rings from Gabriel & Co as well as many other well known designers. I am particularly fond of the vintage styles.
One of the most clever ideas for a jewelry store that I have ever seen, is that on their home page, they have the names and pictures of all of the different cuts of diamonds. What a great resource since I'm pretty sure that if I mention an
asscher cut diamond
to Engineer, he would have no clue as to what I was talking about.
What's really neat is that you can choose the 4cs (cut, clarity, carat, and color) that you are looking for on their website and they will list the available diamonds that suit your needs.
Engineer, if you're reading I'd like mine to be 2 carats, round, colorless, and flawless. Thanks sweetie!
They aren't just about engagement rings though, Kranich's offers a wide range of beautiful pieces in both trendy and classic styles.
Again, my love, if you are wanting to give me a token of your affection, their black pearl bracelet would be a lovely gesture.
The good folks at Kranich's Jewelry Store have offered one of my readers an opportunity to get a little something shiny for themselves.
When I explained to them my involvement in the
Anything for Anthony
COTA campaign, they were happy to be a part of it. So one of the options for an entry into the drawing is to "like" the campaign's Facebook page. I love a jewelry company with heart...especially since the way to my heart is jewelry. ;)
(You can click on these links if you would like to know more about
Anthony's story
or the
campaign
.
How about an 18" strand of pearls ladies?
This classic beauty is a wardrobe essential, especially here in the south. The cultured pearl necklace, valued at $119, has a 14kt gold filigree safety clasp.
I know you're wondering how you can get your hands on this little beauty.
Enter via the rafflecopter below for your chance.
The winner will be selected at random on March 2 and will have three days to contact me before another name is selected.
Update: The winner has been contacted. :)
Kranich's Jewelers gave me the opportunity to give away a piece of their beautiful jewelry. No other compensation was given. Thank you Kranich's for being so gracious and allowing to bring in my involvement with the Anything for Anthony COTA campaign as part of this post. All opinions and obsession with shiny things are my own.
a Rafflecopter giveaway